GENERATION OF STABLE CELL LINES
Mammalian cells can be engineered to produce exogenous RNAs and proteins to study their effect on biochemical and biological functions. Various procedures are used but all utilize some method for introducing exogenous DNA or RNA into live cells that is acted on by cellular processes ultimately producing a measurable biological effect. Two outcomes can be achieved 1) a short-lived, or transient, effect (36-72 hours) on the cell or a cellular process or 2) a long-term, or stable, effect that is maintained for many cell generations.
Transient transfection assays can be performed with a wide variety of macromolecules. Proteins, RNAs, and DNAs can be introduced into cells to produce transient effects on the cell. However, the use of transient effects limits the types of cell based assays one can perform.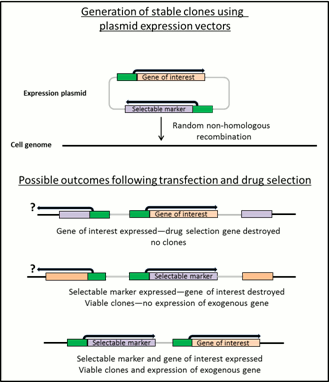 Stable expression methods are used to produce cell lines that continually produce exogenous macromolecules. The resulting stable cell lines can be expanded for use in experiments that require high numbers of cells and long-term experimental procedures. Cell lines with stable expression can be used for long-term growth assays, differentiation assays, tumor growth experiments and transplantation methods.
In addition, stable expressing cell lines can be used for large scale production of proteins for purification of active molecules or functional multi-protein complexes.
Two types of expression systems are commonly used: constitutive and inducible.
Both types of expression systems can be implemented using either of two general procedures: plasmid based or viral based.
Plasmid based systems use bacterial plasmid DNAs that contain mammalian cell transcriptional regulatory sequences, genes that encode transcriptional regulatory proteins and genes for drug resistance. There are a multitude of expression plasmid constructs available and more are constantly being generated by the research community.
*Consult with Altogen Labs scientists to design the optimal expression plasmid for your experimental needs.
Cells are transduced using recombinant viral vectors:
An advantage of using Retroviral or Lentiviral expression systems is that isolation of individual drug resistant clones is not required. During infection every viral genome is inserted as a defined cassette that maintains the integrity of the transcriptional unit, therefore, the vast majority of integrants express the gene of interest. The final result of drug selection is a pool of drug resistant cells. Using this method considerably shortens the time required to obtain large numbers of cells for experimental procedures. In addition, using pools of transfectants eliminates confounding effects from clonal variants.
Generation of constitutive expressing stable cell lines uses is a one-step procedure.
Transfect cells with expression plasmid construct.
Select for drug resistant colonies.
Isolate individual drug resistant clones.
Clonal isolation can be achieved using limited dilution cloning or harvesting individual colonies using cloning cylinders.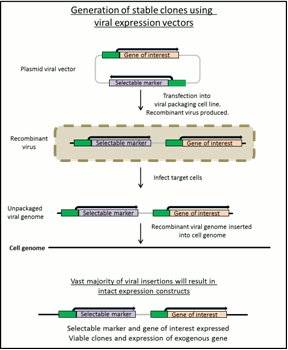 Selection can be done by drug selection and FACS. This allows initial selection in 3 days and in some cases the ability to select for expression levels. In addition, FACS can be used to maintain selective pressure on the cell population. This is especially true for expression vectors that use bicistronic gene constructs.
Several systems for inducible expression are available. They share the strategy of using small molecules that activate transcriptional regulatory proteins that control the production of the gene of interest. Inducers used are antibiotics, steroid hormones and metabolic intermediates and your experimental system may influence which type of inducible system to use.
The tetracycline inducible system is commonly used for cell based assays and for use with animal studies. Another advantage is there are several cell lines available that have been engineered for inducible gene expression.
The tetracycline inducible system uses a two plasmid system: the transcriptional regulatory plasmid and the gene expression plasmid.
The transcriptional regulatory plasmid expresses the transcriptional regulatory protein and a drug selection marker.
The gene of interest is inserted into the gene expression plasmid. It contains a strong mammalian transcriptional promoter sequence and a drug selection marker. Following insertion and sequencing, inducible expression of the gene is tested using transient expression.
THE SCENARIO FOR PRODUCTION OF INDUCIBLE CELL LINES CONSISTS OF A TWO-STEP PROCEDURE:
Step one: Generation of stable inducer cell lines
Transfect cells with the transcriptional regulatory plasmid.
Select for drug resistance and isolate individual clones.
Expand drug resistant clones and screen for inducible expression.
Select two or three clones to generate producer lines.
Step two: Generation of stable inducible producer cell lines
Transfect selected clones with the gene expression plasmid.
Select for drug resistance.
Several stable tetracycline inducer cell lines (Step 1) are available and ready for use in Step 2:
Jurkat Tet-On—Human immortalized T-cell lymphocyte
HEK293 Tet-On—Human embryonic kidney cell line
CHO Tet-On—Chinese hamster ovary cell line
NIH/3T3 Tet-On—Immortalized mouse embryonic fibroblast
HepG2 Tet-On: Hepatocarcinoma (Liver cancer)
MCF7 Tet-On: Estrogen dependent breast cancer (ER-positive, PR-negative, Erbb2/Her2 negative)
PC12 Tet-On: Prostate cancer
T-47D Tet-On: Estrogen dependent breast cancer (double positive, ER- and PR-positive, Erbb2/Her2 negative)
U2-0S Tet-On: Osteosarcoma
To begin the process of generating stable transfected cell lines only requires the sequence of gene of interest. This can be the genebank accession number, a file containing the gene sequence or a sample of the cloned gene. Using this we will insert the gene of interest into an appropriate expression vector that will be used for transfection.
REQUEST A FORMAL SERVICE QUOTE:
BIOLOGICAL RESEARCH SERVICES | SCIENCE OF STABLE CELL LINE GENERATION | IN THE CLINIC AND LABORATORY | IN-HOUSE QUALITY CONTROL | COMPREHENSIVE CELL LINE DEVELOPMENT