CLINICAL APPLICATIONS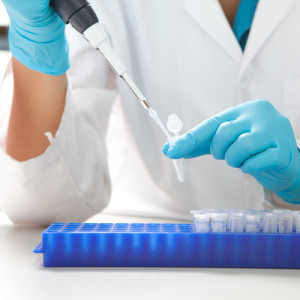 A common application of stable cell lines is in the production of antibodies from hybridoma cells. Hybridoma mammalian cell lines utilize antibody-producing B cells fused with melanoma cells to produce a hybrid cell line that makes specific antibodies (due to the primary lymphocytes) and is characteristically immortal. These cell lines can be engineered to overexpress a target protein (such as a monoclonal antibody) continuously, without going into senescence.
These and other mammalian cell lines are advantageous, due to their native post-translational effects as well as better protein folding, both very important effects in production of therapeutic products, including recombinant proteins, antibodies, viral subunits, and gene therapy vectors. Non-hybridoma stable cell lines can also be produced, integrating engineered plasmids into the cells' genome for specific protein over-expression.
Stable mammalian cell lines, including hybridomas, which over-express a specific protein, are crucial and expensive tools in clinical research, particularly in gene therapy, screening of new pharmaceuticals, and cancer research. The generation of these cell lines is difficult, and requires extensive experience in cell culture.
EXPERIMENTAL APPLICATIONS
Another application of stable mammalian cell lines is in the production of small hairpin RNA (shRNA) vectors. These viral vectors produce shRNA, which activates the RNA interference (RNAi) pathway, in a process also called gene silencing or gene knockdown. This phenomenon acts to silence the expression of a specific gene by degrading the corresponding messenger RNA (mRNA). It is triggered when double stranded RNA (such as shRNA), combined with the RNA-induced silencing complex (RISC), reduces the protein production of a specific gene or genes. RNAi can be useful in many areas, including analysis of gene function, discovery of gene targets, development of assays, and pharmaceutical compound screening. These cell lines are complex to generate, due to the large number of details involved, including controlling for off-target events, modifying efficiency of silencing, and evaluating promoter compatibility.
Generation of stable cell lines expressing shRNAs services are optimized to meet specific parameters for cell line generation that meet researcher requirements. The development of a stable cell line can also produce a number of recombinant proteins and monoclonal anti-bodies at reliable levels essential in biomedical and pharmaceutical research. Stable cell lines are utilized in a number of areas including cellular function assays, protein production, and target validation. Laboratory services that supply stable cell lines expressing shRNA are carefully produced utilizing shRNA design and synthesis, with customers able to provide a specific gene name or sequence for development for their further research.
Our knowledgeable scientists are familiar with the challenges of producing stable cell lines for clinical and experimental applications such as the ones described above, and work closely with clients to ensure optimum results in each study.
REQUEST A FORMAL SERVICE QUOTE:
BIOLOGICAL RESEARCH SERVICES | SCIENCE OF STABLE CELL LINE GENERATION | IN THE CLINIC AND LABORATORY | IN-HOUSE QUALITY CONTROL | COMPREHENSIVE CELL LINE DEVELOPMENT